VICI DBS – Gas Generators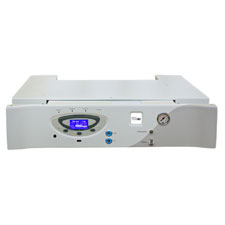 Two decades of excellence in analytical instruments.
VICI DBS S.r.l. has been specialising in the design, development and manufacturing of products and accessories for analytical instruments since 1985.
Founded as DBS Strumenti Scientifici SpA by former research assistants at the University of Padova, over its history the company has grown from producing individual accessories to specifications of researcher and manufacturers of analytical instruments, to become market leaders in the design and development of temperature control accessories for chemical analysis.
VICI DBS S.r.l. has also expanded its expertise beyond the field of temperature control, applying the latest electronic technology to develop a variety of specific applications for the analytical sector.
This evolution has culminated in the company developing innovative new gas generators, using microprocessor control and patented designs to create products that are establishing themselves as benchmark in their category.
Products and accessories for analytical instruments:
Hydrogen Generators
Air Generators
Nitrogen Generators
H2 Sensors
Peltier Temperature Controllers
Hydrogen – NM-H2 PLUS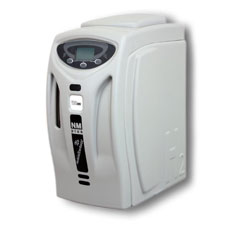 The new NM-H2 Plus series hydrogen generators use the latest polymer electrolyte membrane (PEM) technology to produce high purity hydrogen. The exclusive "No Maintenance" gas column cold dryer regeneration system eliminates all down time for maintenance that is typical of other systems on the market, assuring the best hydrogen purity at all times.
The NM-H2 series generators are ideal for:
New design
Flame ionization detector (FID)
Carrier gas for GC and GC-MS
Fast GC
Collisions on ICP-MS
Small fuel-cell cylinder refills
Purity: 99.9999%
Flowrate: 100,160, 250, 300, 500, 600 or 1000 cc/min
Pressure: from 1.4 to 10 bar / 20 to 150 PSIg
Nitrogen – MISTRAL EVOLUTION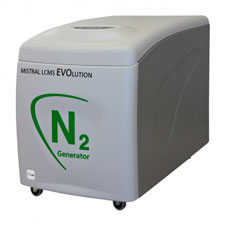 The Mistral-Evolution Nitrogen gas-generators are specifically designed and built to meet the requirements for flow-rates, purity and pressure of today's LCMS systems. Besides this application they are also used for sample preparation work such as solvent evaporation and others. The simple but well proven pressure swing adsorption (PSA) technology is used to separate Nitrogen from the other gases present in compressed air.
Zero Air – GT ULTRA ZERO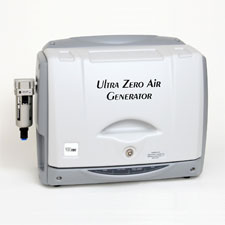 The GT Ultra-Zero Air generators produce dry and hydrocarbon/NOx-free air, using air from oil free compressors, thus avoiding the need to use traditional bottles that are often complex to change.
The ergonomic, compact and silent design makes the Ultra-Zero Air series generators the ideal solution for the following analytical applications:
GC-FID
GC-NPD
GC-FPD
GC-PFPD
THA