Thermo Scientific™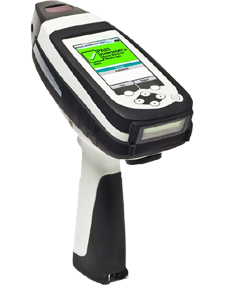 Thermo Scientific instruments, equipment, software, services and consumables empower scientists to solve for complex analytical challenges in pharmaceutical, biotechnology, academic, government, environmental and industrial research, as well as the clinical laboratory.
Our products address a range of needs from sample, material characterization and chemical analysis to clinical diagnoses and biological-based therapeutics manufacturing.
IonicX Portable XRF Analyzer
Identify ionic salts in seconds with minimal sample preparation.
The Thermo Scientific™ IonicX™ Portable XRF Analyzer provides fast and accurate ionic salt raw material identity verification and high sample throughput to pharmaceutical and biopharmaceutical manufacturers.
Cut testing time and expense by replacing time-consuming, resource-intensive wet chemistry and benchtop methods with the non-destructive, non-contact portable XRF analyzer for ionic salts.
TruScan™ RM Handheld Raman Analyzer
Pharmaceutical and biotechnology manufacturers must ensure the quality of materials – from incoming raw material through finished product.
The Thermo Scientific™ TruScan™ RM Handheld Raman Analyzer delivers reliable material identity verification through sealed packaging in seconds, right at the point-of-need.
With the optional Thermo Scientific™ TruTools™ embedded chemometrics package, users can build advanced, customized qualitative and quantitative methods for complex material analysis problems.
microPHAZIR™ RX Analyzer
Take the power of NIR spectroscopy out of the laboratory and into the warehouse. Pharmaceutical analysis for raw material identification is a critical step in quality assurance that has tremendous impact on customer safety and speed and cost of production.
With the Thermo Scientific™ microPHAZIR™ RX Analyzer, pharmaceutical manufacturers can obtain reliable material identity verification on-site within seconds.
The microPHAZIR RX Analyzer provides a portable NIR tool to meet regulatory requirements, improve product quality, cut manufacturing costs and reduce supply chain risk.