G 7825 and G 7826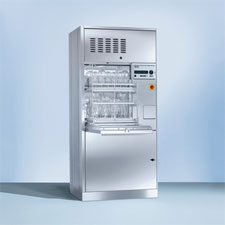 The G 7825/G 7826 series was designed with the requirements of larger laboratories in mind.
With a width of only 900 mm, these machines are the ideal proposition in cases where space is at a premium. Depending on the installation site and hygiene requirements, machines are available as single-door front-loading models (G 7825) or as two-door barrier machines (G 7826) for installation in a diaphragm wall.
PG 8527 and PG 8528
When it comes to preparation, the absolutely thorough cleaning of all instru­ments is of prime importance.
Over the last four decades, Miele COMMERCIAL has been setting innovative milestones in the development of processes to deal with specific instrument types and functions.
With the new PG 85 series of appliances, Miele is setting yet another milestone. The new PG 8527 and PG 8528 washer disinfectors for the central processing of large quantities of instruments and labora­tory glassware offer great added value – greater throughput, greater reliability and greater economy.