Custom BioGenic Systems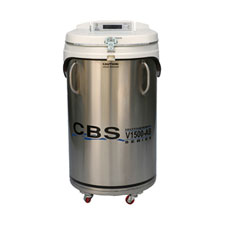 Founded in 1987, Custom BioGenic Systems is a global leader in the design and manufacture of state of the art liquid nitrogen laboratory freezers, cryogenic equipment and accessories.
The CBS Isothermal Liquid Nitrogen Vapour Storage System was patented in 2000 and Custom BioGenic Systems continues to be an innovative leader in the design of cryogenic equipment and supplies.
In addition to cryopreservation equipment, we supply upright freezer racks, chest freezer racks, liquid nitrogen freezer racks, canisters / cassettes and frames as well as laboratory boxes and dividers.
By understanding the needs of the biotechnology industry, Custom BioGenic Systems provides superior laboratory freezers and complete inventory control rack systems that support veterinarian, horticulture, pharmaceutical, industrial, scientific and research laboratories and banks.
Features:
Store samples at liquid nitrogen temperature with no liquid nitrogen contact.
Same internal usable space as existing liquid nitrogen freezers (no lost storage space).
Eliminates possibility of sample cross contamination.
Comes standard with 2301 Auto-Fill / Monitoring System.
Accommodates all standard rack systems.
Added user safety eliminating contact or splashing of liquid nitrogen.
Increased interior visibility.
Minimal interior temperature gradient.
Round space saving design.
Stainless steel construction.
Castor mounted for easy mobility.
Advanced woven lid gasket design.
Counter balanced lockable lid.
Annular fill and sensor tubes.
Accommodates:
Aluminum Square Racks
Stainlees Steel Square Racks
Vertical Racks
Mini Racks
Canister and Frame Systems
Vials
Boxes
Canisters / Cassettes
Platform Dividers
Performance:
LN2 Capacity (Liters): 30
Static Evaporation Rate (Liters/Day): 5
Static Holding Time (Days): 6
Weight Empty lbs(kg): 327 (148)
Weight Full lbs(kg): 383 (174)
Exterior Dimensions: Inches (MM)
Width: 26 (660)
Depth: 37 (939)
Height: 45 (1,143)
Interior Dimensions: Inches (MM)
Usable Height: 29 (736)
Usable Diameter: 21 (534)
Maximum Storage Capacities:
Vials (2ml): 9,100
Blood Bags (50ml): 434