BioVigilant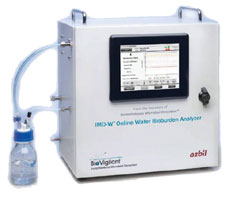 BioVigilant, a pioneer in rapid microbial detection, delivers environmental monitoring solutions for PW, UPW, WFI water systems on the utilities side and air monitoring of isolators, RABs, BSCs and general cleanrooms.
BioVigilant Instantaneous Microbial Detection systems provide continuous, real-time results for environmental monitoring of air and water. IMD systems detect particles and determine biological status…simultaneously. No sample preparation or growth required.
IMD-W™ OWBA FOR WATER
The IMD-W™ Instantaneous Microbial Detection system for pharmaceutical grade waters delivers a new tool for assessing and reacting to bioburden risks in real time.
Benefits:
Improved product quality
Better risk management
Enhanced process understanding
Energy savings
Improved resource allocation and labor efficiencies
Features:
Real-time results without staining or reagents
Detects particles and determines biologic status simultaneously
Enhanced interferent discrimination
Automated system suitability routine
Supports 21 CFR Part 11 compliance
21 CFR Part 11 compliant
Integrated touch screen user interface
Data may be exported for offline analysis and storage
Flexible communications interface for networking; can be controlled externally by common industrial control systems (e.g. SCADA, PLC)