Advanced® Model 4250 Single-Sample Cryoscope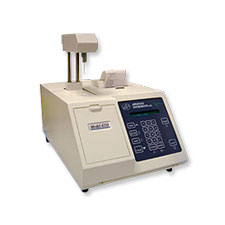 Advanced® Model 4250 Single-Sample Cryoscope for Added Water Determination in Milk
The Advanced Instruments Model 4250 Single-Sample Cryoscope employs the freezing point depression (FPD) method for the determination of added water in milk.
Single sample, 2.0 or 2.5 ml sample size, the Model 4250 Cryoscope design includes m°C or m°H scale, timed plateau or plateau seeking modes, and multi-language display prompts. A frost-free cooling chamber eliminates most routine maintenance. Additionally, the 4250 sample probe and stir-wire are fully accessible for easy cleaning.
On-board printer
Automated calibration
Simple push-button design
Multi-language capabilities
Statistical analysis
Stores up to 30 test results
Optional bar code scanner
The Model 4250 allows your plant to manage a premium milk supply, ensure quality products and improve your operating efficiency. The 4250 offersboth the International Reference and screening freezing point methods for rapid, precise, reliable results.
Advanced Instruments also supplies CryoLine, NIST-traceable quality supplies for use with our Cryoscopes.
422 and 621 Milk Calibration Standards
Lactrol® 530 Reference Solution
Specifically designed to satisfy ISO, HACCP, and QA/QC requirements
Helps assure monitoring and control of milk supply process and product integrity, from farm to finished product
Advanced® Model 4250 Single-Sample Cryoscope Technical Specifications
Electrical
Power Requirement: 100 to 130 VAC (50/60 Hz) or 200 to 250 VAC (50/60 Hz)
Fuses (2): 250V time delay (Type T): 2-Amp (100-130 VAC); 1-Amp (200-250 VAC)
Power Consumption: 150 Watts
Memory Backup: Integral lithium cell; 10-year life (typical); (not user replaceable)
Sample Volume
2.0 to 2.5 mL
Sample Capacity
Single sample
Readout
20-character vacuum fluorescent display
Units
mºC or mºH
Range
0 to 1000 mºC or mºH
Resolution
1 mºC or mºH
Communications
On-board printer, DTE EIA-232/V.24 (RS-232) serial port and optional barcode scanner
Performance at Reference Conditions
Linearity
Less than 0.5% from a straight line
Repeatability
± 2 mºC or mºH (1 S.D.) between 0 and -400 mºC ± 0.5% (1 S.D.) between -400 and -1000 mºC
Drift
Less than 1 unit per month
Performance Over Operating Conditions
Temperature Effects
Less than 1 unit for every 5°C (9°F) ambient temperature change.
Operating Conditions Temperature
18°C to 35°C (64°F to 95°F)
Humidity
5 to 80% relative humidity (non-condensing)
Storage Temperature
-40°C to +45°C (-40°F to +113°F)
Start-up Time
Immediately from stand-by; under 5 minutes from power-on
Test Time
Approximately 90 seconds in 30-second timed mode
Dimensions
30.5 cm x 33.0 cm x 45.7 cm
(12.0" H x 13.0" W x 18.0" D)
Height With Head Up: 40.6 cm (16.0" H)
Weight
Net: 12.7 kg (28.0 lbs.)
Shipping: 17.7 kg (39.0 lbs.)
Warranty
One-year limited warranty on workmanship and all parts except glass, plastic, and parts warranted by their makers
Certification
This product is a certified CE and ETL-USA instrument
Installation Class: I
Over-Voltage
Category: II
Pollution Degree: 2
Moisture Protection: IPX0 (ordinary)